Designed for Collectors
We all collect something, whether it's stamps, movies, games, music, books or wine. Librarian Pro brings sophistication and class to managing your collection! Browse all of your items at a glance on a virtual bookshelf, in a list, or in cover flow.
Item artwork and information is easily and automatically downloaded from the web. Even track which items you have lent out to friends; or, for small businesses, go as far as recording late fees and due dates.
---
This system keeps track of all previous data you've entered and will offer suggestions as you type!
View a summary of all of your library items at once. Viewing charts that outline the total value of items in your library, genres, actors, musicians, and literally any other value you've entered!
With as little as a barcode or item title, Librarian Pro can scour the web and find all matching items and fill in the missing details. From cover artwork to the list of tracks on an album or even the full list of cast in a movie.
Complete Inventory Control
If you are managing a full inventory of items for sale on eBay, or using Librarian Pro to track which friend borrowed which movies, the power-user features in Librarian Pro will make your life a breeze.
Taking full advantage of optical recognition technology, use your web cam or physical barcode scanner to add items to your library or manage inventory. Mark items as lent out to specific users, track in your computer's calendar, automatically send e-mails or display alerts. Even manage late fees and due dates.
---
Other Highlights
Detailed
Pre-defined item types that come with a variety of fields to enter all information you could ever possibly desire.
Collections
Create smart collections that automatically include items based on a set of criteria you specify. Want to quickly view all movies with Christian Bale? Done!
Import & Export
Easily import from our competitor's titles and other common file formats. Export for easy viewing as a web page or into our Data Guardian app!
Multi-Database Support
Create an unlimited number of databases: one for each collection you own!
Isolate Duplicates
Easily identify and delete duplicate library items.
Mac & PC Compatible
One database will work on both your Mac and PC.
Statistics
View a summary of all items in your library to compare prices and more.
Web Auto-fill
Integrates with numerous web sites to automatically download item information.
Multi-Database Support
Create an unlimited number of separate databases.
Smart Collections
Automatically sort items by specific criteria.
Borrowers
Track item lending and charge late fees.
Export
Export to the web and a variety of other formats.
Import
Import from text, CSV, iTunes, 'pedias, Delicious Library and more!
Beautiful
View as a list, as a bookshelf, or in cover flow mode.
Duplicate Filter
Easily isolate and display duplicate items.
Details
Fill in countless details about items ranging from tracks on an album to the illustrator for a book.
Sales Tracking
Record detailed purchase and sale information for items, such as purchase location, price, original value, used value, item URL, AND MORE.
Reviews
Write internal reviews.
Barcode Scanning
Use your web cam or physical barcode scanner to add items or update inventory.
Cross-platform
One database works on both Mac and PC.
Calendar
Track lent out items in macOS' Calendar app and send reminder e-mails or display alerts.
Auto-complete
Auto-complete helps speed data entry by remembering entires for other items.
For the full or trial version of our app, please use the download links below. After installation, the trial will automatically begin. For users owning a valid license, unlock the software via the "Unlock Product..." menu item if necessary.
Current Version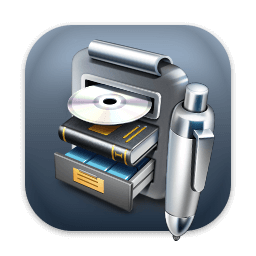 Librarian Pro for PC
Version 6.0.7
Released March 25, 2021
Windows 7 SP1 or later; Visual Studio C++ 2019 Runtime or later
Older Versions
These versions are no longer supported and are listed primarily for customers owning older licenses.
Name
Version
Size
Date
Platform
Minimum OS
Download
Librarian Pro
5.1.4
45.63 MB
May 25, 2020
PC
Windows 7 SP1
Download
Librarian Pro
5.1.4
31.12 MB
May 25, 2020
Mac
macOS 10.13
Download
Librarian Pro
4.0.9
41.40 MB
March 21, 2019
PC
Windows 7 SP1 or later
Download
Librarian Pro
4.0.9
32.04 MB
March 21, 2019
Mac
Mac OS X 10.10 or later
Download
Librarian Pro
3.3.2
39.84 MB
April 17, 2018
PC
Windows 7 SP1
Download
Librarian Pro
3.3.2
37.78 MB
April 17, 2018
Mac
Mac OS 10.10
Download
Librarian Pro
3.2.2
35.43 MB
November 13, 2016
PC
Windows XP
Download
Librarian Pro
3.2.2
30.40 MB
November 13, 2016
Mac
Mac OS 10.7
Download
Final release that will work on Mac OS X 10.7.
Librarian Pro
3.0.5
26.36 MB
January 24, 2014
Mac
Mac OS 10.6 (Intel)
Download
Final release that will work on Mac OS X 10.6.
Librarian Pro
2.2.6
17.86 MB
January 10, 2013
Mac
Mac OS 10.6 (Intel)
Download
Librarian Pro
2.2.5
22.89 MB
December 27, 2012
PC
Windows 2000/XP
Download
Librarian Pro
2.2.1
14.76 MB
September 7, 2012
PC
Windows 2000/XP
Download
Librarian Pro
2.2.1
19.58 MB
September 7, 2012
Mac
Mac OS 10.4 (PPC/Intel)
Download
---
Beautiful, incredibly user-friendly interface. Does everything that other home inventory apps do and then some. I don't feel any need at all to search for an alternative to compare to like I have before with other apps. I believe I've reached the end of the road here after finding this one and the view is breathtaking. Highly, highly recommended.
I have been using librarian pro for a very long time. As a clergywoman I have an extensive library of books, both professional and personal. This is like having a card catalogue of my library at my fingertips. I am also able to see what I have of various collections so that I don't re-purchase what I already have.
I really like this software. I have a lot of books and musics and I use this software to organise and check these. This software very useful and I would like to recommend for everyone!
I am a Library and Information Technician and I love Librarian Pro to control my personal collections. It does what I need it to do.
i have thousands of DVD and CD. Librarian Pro is a good solution.
You can use this app for anything, not just movies and books! I was very pleasantly surprised when I discovered the dynamics of this app and all the possibilities that came with it. I didn't know what I was getting myself into, but I'm glad I do now. I won't be using anything else for as long as I live.
First, let me tell you how invaluable Librarian Pro is to me! I have been a volunteer for an incredible organization called Bookshare for probably about seven years now. I was introduced to it way back in 2004 when my daughter, Cindy, who had cerebral palsy wanted to be able to read books independently. We had lots of books in our house, but no way for her to see a list. Later, the reading bug hit our younger daughter, Nichole, and by then my husband and I were full-fledged volunteers scanning an and proofreading books to make them digitally accessible for people with print disabilities. I have been even been known to take my service dog, Daisy, to the library to help me complete collections. Librarian Pro has been allowing us to catalog not only the thousands of books in our home, but our daughter's massive video collection. I highly recommend Librarian Pro all my friends who need to organize any of their media!
Its the best software for my library. Had quite a number of different programmes, but this one beats the rest.
There's a comfort in knowing that all your possessions are categorized and logged neatly all in one place. My house got broken into a couple of years back and I only wish I'd had this app to look back on and figure out what was missing after the fact. So incredibly useful and easy to apply to your every day life. I swear I'll never live another day without it.
This isn't just an inventory system. It's an incredible one. Better than anything else I've ever used. Not only is it superior to Delicious Library in my opinion, it's also compatible with it - how can you argue with that? This app has saved me so much time and stress I feel the least I can do is write it a golden review. 10/10 and two thumbs up here for sure.
All of our products come with a full set of licensing options: from single users and households to small businesses and larger corporations.
---
Personal Licenses
Student/Senior
1 computer

2 unique activations per year
Solo
1 computer/user

5 unique activations per year
Household
1 household

10 unique activations per year
---
Business Licenses
School
1 school

300 unique activations per year
Small Business
10 computers/users

60 unique activations per year
Corporate
Unlimited

10000 unique activations per year
Our manual is always expanding! While we strongly believe our products as so intuitive you shouldn't need a manual, there are exceptions now and then. If you feel there is something missing from the documentation, please contact us.
For a single-page listing of all help entries, click here.
Version 6.0.7 – March 25, 2021
Requirements:
This version requires at least Mac OS X 10.14 or Windows 7 SP1 with Visual Studio C++ 2019 Runtime or later.
Upgrade Notes:
This upgrade is free for users owning an active subscription or a non-subscription "lifetime license." No action is required other than downloading the new version from our web site and unlocking as normal with an e-mail address. For all other users, orders for the current version can be purchased on our web site.
Important Note:
Amazon discontinued their Product Advertising API for all calls that are not revenue generating as of January 23, 2019. To continue using Amazon to auto-fill item details, you must now create your own Amazon Associates API account.
New Feature:
MAJOR improvements to barcode web cam scanning on macOS. Unfortunately, these improvements are likely never going to hit the Windows version due to lack of APIs available from Microsoft for visual object detection.
Modification:
Turned off Google Reads by default in Web Finder as it seems to be returning too much irrelevant content.
COMING SOON // Bug Fix:
Printing always crops titles with elipsis.